Form 1023 Help Pages and Articles Sitemap
Browse all the links to instruction pages of form 1023 in one go. You can also find nonprofit articles and their categories here as well. This is a great way to find a page quickly if you already know what you're looking for. Also you may try the search function at the top of this site to search for specific phrases and article headings.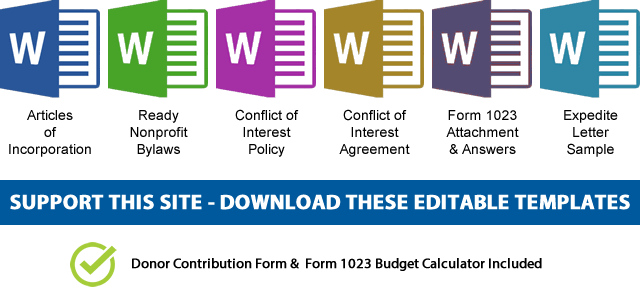 NOTE:
If you'd like to receive the following organizing documents:
Nonprofit Articles of Incorporation,
Nonprofit Bylaws,
Nonprofit Conflict of Interest Policy,
Conflict of Interest Policy Acknowledgment,
Form 1023 Attachment with all the answers,
Form 1023 Expedite Letter template,
and Donor Contribution Form
in Microsoft Word Document format, please consider 
making a donation
 and you'll get to download them immediately. Not only they're worth well over $1000 in value, they will save you weeks of copy pasting and formatting as they are ready to go templates which only need changing names and addresses.