Form 1023 Part VI (6) – Providing Goods, Services, or Funds
Providing Goods, Services, or Funds to Individuals and Organizations
Part VI (6) of the Form 1023 is designed to reveal information regarding your activities with members, individuals, and organizations who might receive benefits from you. In a nutshell, you normally should not be organized solely to benefit another organization. At the same time, you cannot just benefit individuals and members either.
For example, you are running a breast cancer nonprofit organization. Your mission should be saving all the breast cancer patients you can. You cannot have an organization to raise funds and save only Sally who has cancer. Sally is an individual not a class. Your organization should work with a class of people, animals, issues… put it simply, you can not start an organization for an individual or two or three and expect to be exempt from paying taxes.
Form 1023 Part VI (6) Line 1a. In carrying out your exempt purposes, do you provide goods, services, or funds to individuals?
Example answer:
At the discretion of the board of directors, we may provide goods, services, or funds to individuals affected by chronic malnutrition or hunger. That will include our disaster relief aid (i.e. food and water) or educational materials (e.g. our educational publications and pamphlets).  In order to do so, we identify these individuals based on our research and referrals in the field. These individuals will be selected regardless of their religion, race, ethnicity, and age. These individuals are not known ahead of time, and specifically at the time of preparing this application.
(Next Step) IRS Form 1023 Part VII (7) Foundation Classification
(Previous Step) Form 1023 Part V – Compensation & Arrangements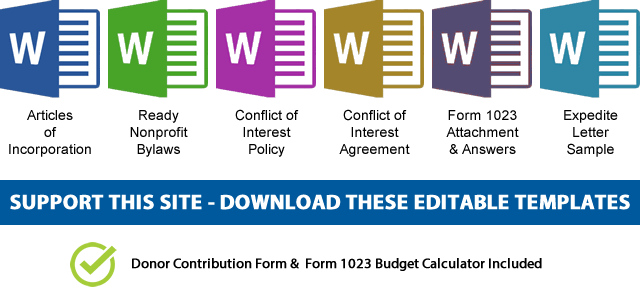 NOTE:
If you'd like to receive the following organizing documents:
Nonprofit Articles of Incorporation,
Nonprofit Bylaws,
Nonprofit Conflict of Interest Policy,
Conflict of Interest Policy Acknowledgment,
Form 1023 Attachment with all the answers,
Form 1023 Expedite Letter template,
and Donor Contribution Form
in Microsoft Word Document format, please consider 
making a donation
 and you'll get to download them immediately. Not only they're worth well over $1000 in value, they will save you weeks of copy pasting and formatting as they are ready to go templates which only need changing names and addresses.
Sorry that this was not useful to you!
Help improve this!
Share your frustration. If you want me to get back to you please include email and phone number.