IRS form 1023 Help for 501c3 Nonprofit Organizations & Charities
This nonprofit help website is a complete source of information and instructions for starting a tax exempt charitable nonprofit organization by preparing your own 501c3 application, the IRS form 1023 (Application for Recognition of Tax Exemption). The new and improved online IRS form 1023 application for tax exemption is explained and examined page by page, step by step and every question is answered with information and references to successful 501c3 nonprofit applications, sample documents, and complete IRS Form 1023 instructions to file on pay.gov.
The information on this nonprofit Form 1023 help website is free to use, share, and improve by all, and it will stay like this until the end of time. I have implemented many years of my life into preparation of this informational site for no pay and pension so you can achieve your dream, simply because I believe that knowledge should be free, and given the right tools and information, people choose to do good. Maybe I'm a dreamer but I like to keep it that way.
Who this 501c3 Tax Exemption help website is for:
This website is for those who are applying or starting a 501c3 nonprofit organizations to truly help others, and their nonprofit mission complies with the IRS exemption definition:
Solely for charitable, religious, scientific, testing for public safety, literary, or educational purposes, or to foster national or international amateur sports competition, or for the prevention of cruelty to children or animals within the means of section 501c3 of the Internal Revenue Code.
This group should file the IRS Form 1023.
Who this 501c3 Tax Exemption website is NOT for:
Nonprofit organizations formed solely to support other organizations
For-profit entities wanting to become a non-profit and file the Form 1023. (In my experience, 99% of this group want to avoid paying taxes with no real intention of doing good.)
Medical organization i.e. hospitals, clinics, wellness centers who want to file for recognition of tax-exemption. (This group should seek professional assistance for their application)
Insurance providing entities who want file for recognition of tax-exemption. (This group should seek professional assistance for their application)
Private Foundations. (This group should seek professional assistance, but most who think they are private foundation are actually public charities so read through this website for clarification)
Private Operating Foundations. (This group should seek professional assistance, but same as above, most are public charities.)
To apply and file for tax exemption of your organization under the section 510c3 is not a walk in a park, I'll be the first to say that. But as this site has demonstrated time and time throughout the years, your organization successfully can successfully apply and become tax exempt as have thousands of other organizations by filling the IRS Form 1023 yourself. The benefits of applying yourself outweighs the hardship financially and in lessons learned that can be applied to the success and future of your non-profit.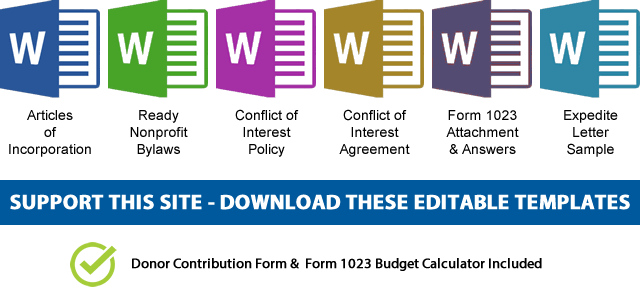 NOTE:
If you'd like to receive the following organizing documents:
Nonprofit Articles of Incorporation,
Nonprofit Bylaws,
Nonprofit Conflict of Interest Policy,
Conflict of Interest Policy Acknowledgment,
Form 1023 Attachment with all the answers,
Form 1023 Expedite Letter template,
and Donor Contribution Form
in Microsoft Word Document format, please consider 
making a donation
 and you'll get to download them immediately. Not only they're worth well over $1000 in value, they will save you weeks of copy pasting and formatting as they are ready to go templates which only need changing names and addresses.