For those who still value reading books!
Here are a few nonprofit books on subject of running a smooth organization and real world fundraising. There are many good books out there but I thought to hand select a few that I've read and found useful to share with you. Hope you enjoy them as much as I have.
First, get your Amazon Kindle
I'm a big fan of hard copy books, but even I made the transition to Kindle. It's just so easy to use, instant book downloads, long battery life, and the fact that you can take it anywhere is hard to beat. I never wait for another book to get shipped and even better yet, I can borrow books electronically from local libraries at no charge.
This way, you can read the book for free and if you decide you want to buy it, you can always do that later. It's worth mentioning that Kindle books are cheaper than paperbacks too! If you don't have an Amazon Kindle Paperwhite yet, you don't know what you're missing. Take my word for it, you'll love it. Get it on Amazon.
Effective Fundraising for Nonprofits by Ilona Bray J.D.
An affordable, plain English guide, Effective Fundraising for Nonprofits explains how to: work with individual donors; plan special events; solicit grants from foundations and corporations get media coverage; use the Web to further fundraising goals start a side business and much more.
Raising money for your nonprofit is always a challenge — especially in a constantly shifting economic climate. Turn to Effective Fundraising for Nonprofits for advice and success stories from over 40 experienced fundraisers, foundation staffers, journalists, and more. Get it on Amazon.
Managing the Nonprofit Organization by Peter F. Drucker
The groundbreaking and premier work on nonprofit organizations. The nonprofit sector is growing rapidly, creating a major need for expert advice on how to manage these organizations effectively.
Management legend Peter Drucker provides excellent examples and explanations of mission, leadership, resources, marketing, goals, and much more. Interviews with nine experts also address key issues in this booming sector. Get it on Amazon.
The End of Fundraising by Jason Saul
Why does it cost nonprofits on average $20 to raise $100, while it costs companies only $4? Simply put: Nonprofits have no leverage. No one has to make a donation. And since most donors have no direct stake in the organizations they support, they make donations out of the goodness of their hearts. If donors feel like writing a check, they will. If they don't, they won't.
The End of Fundraising turns fundraising on its head, teaching nonprofits how to stop begging for charity and start selling impact. For the first time, nonprofits have economic power. We live in a new era where consumers, businesses, investors, employees, and service providers attach real economic value to social outcomes.
An era where yesterday's "feel good" issues—education, the environment, health care, the arts, and animal rights—now have direct economic consequences and opportunities. Nonprofits now have leverage. To use this leverage, nonprofits must learn how to "sell" their impact to a new set of stakeholders. Get it on Amazon.
The Only Grant-Writing Book You'll Ever Need
This book is designed to help nonprofit organizations craft proposals for grants from foundations, companies, and government agencies.
Ellen Karsh, a writer and former director of the Mayor's Office of Grants Administration, in New York, and Arlen Sue Fox, associate executive director for development at Sunnyside Community Services, also in New York, significantly update this edition from 2005 by including interviews with grant makers about how the current economic crisis is affecting their giving and how grant seekers can improve their chances of garnering support.
The book includes a proposal checklist, a glossary of terms, sample grant forms, and a list of Web sites that provide information on grants offered by foundations, corporations, and the government. Get it on Amazon.
Nonprofit Management 101
A comprehensive handbook for leading a successful nonprofit organization. This handbook can educate and empower a whole generation of nonprofit leaders and professionals by bringing together top experts in the field to share their knowledge and wisdom gained through experience. This book provides nonprofit professionals with the conceptual frameworks, practical knowledge, and concise guidance needed to succeed in the social sector.
Designed as a handbook, the book is filled with sage advice and insights from a variety of trusted experts that can help nonprofit professionals prepare to achieve their organizational and personal goals, develop a better understanding of what they need to do to lead, support, and grow an effective organization. Get it on Amazon.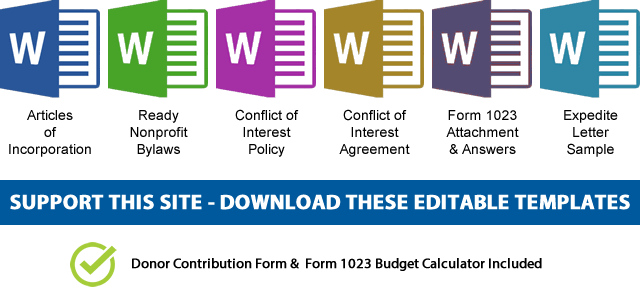 NOTE:
If you'd like to receive the following organizing documents:
Nonprofit Articles of Incorporation,
Nonprofit Bylaws,
Nonprofit Conflict of Interest Policy,
Conflict of Interest Policy Acknowledgment,
Form 1023 Attachment with all the answers,
Form 1023 Expedite Letter template,
and Donor Contribution Form
in Microsoft Word Document format, please consider 
making a donation
 and you'll get to download them immediately. Not only they're worth well over $1000 in value, they will save you weeks of copy pasting and formatting as they are ready to go templates which only need changing names and addresses.