Instructions on how to answer the questions on the Form 1023 Schedule F
Schedule F of the form 1023 is only for organizations that provide low-income housing.
To qualify for tax exemption as a low-income housing provider you have demonstrate that your organization is going to provide affordable housing for a significant segment of individuals in your community with low incomes.
Your low-income housing programs may serve a combination of purposes, such as for poor, frail, and elderly persons.
Please pay attention that low income housing  is not the same as transitional housing which some organizations use for rehab purposes or short term support of affected population.
Form 1023 Schedule F Line 1.
The "type" of facility may be an apartment complex, condominium, cooperative, or private residence, etc.
Be as descriptive as possible.Explain the type, number of units, rooms, facilities,…
Form 1023 Schedule F Line 6.
Answer "Yes," if you charge daily, weekly, monthly, or annual fees or maintenance charges.
Form 1023 Schedule F Line 8.
Government programs include federal, state, or local government programs.
This would include any assistance from U.S. Department of Housing and Urban Development (HUD). Again don't just write a single sentence or you'll be asked for further information.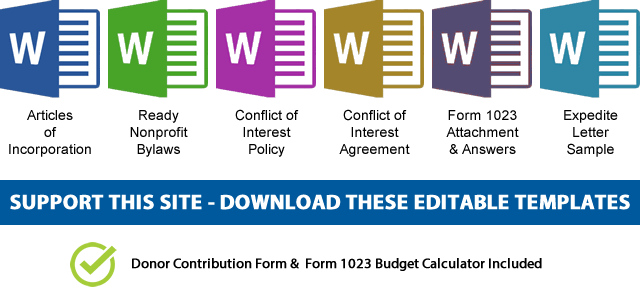 NOTE:
If you'd like to receive the following organizing documents:
Nonprofit Articles of Incorporation,
Nonprofit Bylaws,
Nonprofit Conflict of Interest Policy,
Conflict of Interest Policy Acknowledgment,
Form 1023 Attachment with all the answers,
Form 1023 Expedite Letter template,
and Donor Contribution Form
in Microsoft Word Document format, please consider 
making a donation
 and you'll get to download them immediately. Not only they're worth well over $1000 in value, they will save you weeks of copy pasting and formatting as they are ready to go templates which only need changing names and addresses.
Sorry that this was not useful to you!
Help improve this!
Share your frustration. If you want me to get back to you please include email and phone number.