Instructions for IRS Form 1023 Part II – Organizational structure
---
In Form 1023 Part II, the IRS tries to identify you as an eligible tax exempt organization. The name organization doesn't mean Jack in the eyes of the IRS. A group of cats in the alley meowing can be called organization, so stay away from this term. I know many of you think that calling your entity organization makes it cooler than a corporation, but in reality they all mean the same. Call it what it IS.
So whatever you call your group doesn't matter, you MUST be a corporation, an unincorporated association, or a trust to be able to file the form 1023 and be tax exempt.
Almost all states have a special designation for nonprofits and you should file your Articles of Incorporation to become a "Public Charity Organization". Don't incorporate as LLC or any other form of entity as it makes it harder for no good reason..
DO NOT file this form unless you can check "Yes" on lines 1, 2, 3, or 4.
NOTE: If you'd like to receive the six major documents, (Articles of Incorporation, Nonprofit Bylaws, and Conflict of Interest Policy, Form 1023 Attachment, Expedite Letter Sample, and Donor Contribution Form) in Microsoft Word Document format, please consider making a donation and you'll get to download them immediately. This will save you weeks of copy pasting and formatting as they are ready to go templates which only need changing names and addresses.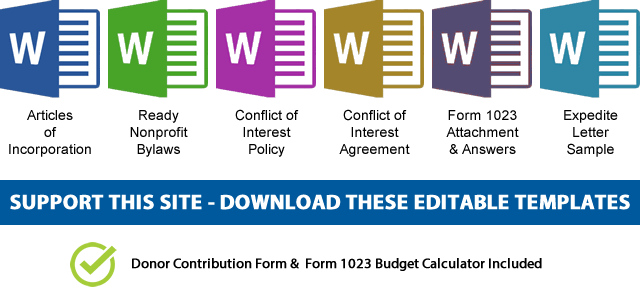 On section 5 of this article, you have to answer YES. You need to adopt bylaws to show how you run your entity. IRS might accept a written explanation, but this explanation is your bylaws (well sort of). If you don't adopt bylaws, you can be almost sure that you will never receive a favorable answer on your application. So do it right the first time. Go to Nonprofit Bylaws Page to learn how to write your bylaws.