How to make a ZIP compressed folder on Windows and Mac
How to make a zip folder On Windows 7 machines:
1. Start Windows Explorer. Usually, you will find a yellow folder icon on the toolbar on the bottom of your screen. Click on this icon. If you don't see a yellow folder icon, then click on the Start icon at the bottom left of your screen, and then type "Windows Explorer" (don't type the double quotes) into the textbox that says "Search programs and files".
2. Navigate to the folder that contains the files you want to place into your zip file.
3. Point your cursor to a position in the Windows Explorer windows so that the cursor is not pointing to anything
4. Right-click your mouse. Select New… and then "Compressed (zip) file". A new zip icon or file will appear, depending on how you are viewing your folder
5. Select a file by left-clicking your mouse, then drag it into the zip file. Repeat this process for each file that you want to include in the zip file.
How to make a zip folder On Windows XP machines:
1. Start Windows Explorer (right-click the Start menu, then choose Explore).
2. Navigate to the folder in which you want to create a .zip file.
3. On the File menu, point to New, and then click Compressed (zipped) Folder. Type a name for the new folder, and then press ENTER.
4. Using Windows Explorer, drag any files you wish to place into the .zip file.
How to make a zip folder On Mac machines:
Select the files in Finder. Click on the File menu and select the option that begins "Create an archive…." That's it. The archive is a zip file.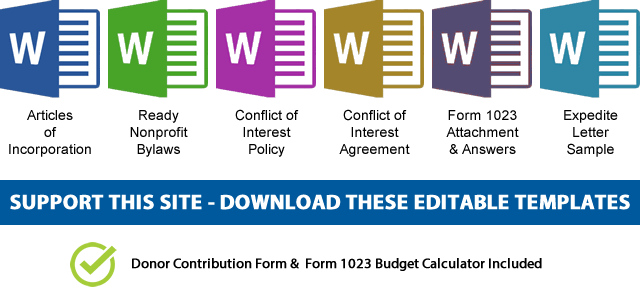 NOTE:
If you'd like to receive the following organizing documents:
Nonprofit Articles of Incorporation,
Nonprofit Bylaws,
Nonprofit Conflict of Interest Policy,
Conflict of Interest Policy Acknowledgment,
Form 1023 Attachment with all the answers,
Form 1023 Expedite Letter template,
and Donor Contribution Form
in Microsoft Word Document format, please consider 
making a donation
 and you'll get to download them immediately. Not only they're worth well over $1000 in value, they will save you weeks of copy pasting and formatting as they are ready to go templates which only need changing names and addresses.
Sorry that this was not useful to you!
Help improve this!
Share your frustration. If you want me to get back to you please include email and phone number.