Other Exempt Organizations Under Section 501 of IRC
Aside from the mentioned major type nonprofit organizations on How to Start a Nonprofit Organization page, there some less common exempt organization types which we will cover here:
| | |
| --- | --- |
| 501(c)(1) | Corporations Organized Under Act of Congress (including Federal Credit Unions) |
| 501(c)(2) | Title Holding Corporations for Exempt Organization |
| 501(c)(11) | Teachers' Retirement Fund Associations |
| 501(c)(12) | Benevolent Life Insurance Associations, Mutual Ditch or Irrigation Companies, Mutual or Cooperative Telephone Companies, or Like Organizations (if 85 percent or more of the organization's income consists of amounts collected from members for the sole purpose of meeting losses and expenses) |
| 501(c)(13) | Cemetery Companies (owned and operated exclusively for the benefit of their members or which are not operated for profit) |
| 501(c)(14) | State Chartered Credit Unions, Mutual Reserve Funds |
| 501(c)(15) | Mutual Insurance Companies or Associations |
| 501(c)(16) | Cooperative Organizations to Finance Crop Operations |
| 501(c)(18) | Employee Funded Pension Trusts (created before June 25, 1959) |
| 501(c)(21) | Black Lung Benefit Trusts |
| 501(c)(22) | Withdrawal Liability Payment Funds |
| 501(c)(25) | Title Holding Corporations or Trusts with Multiple Parents |
| 501(c)(26) | State-Sponsored High-Risk Health Coverage Organizations |
| 501(c)(27) | State-Sponsored Worker's Compensation Reinsurance Organizations |
| 501(c)(28) | National Railroad Retirement Investment Trust (45 U.S.C. 231n(j) |
| 501(c)(29) | Qualified Nonprofit Health Insurance Issuers |
| 501(d) | Religious and Apostolic Associations |
| 501(e) | Cooperative Hospital Service Organizations |
| 501(f) | Cooperative Service Organizations of Operating Educational Organizations |
| 501(k) | Child Care Organizations |
| 521(a) | Farmers' Cooperative Associations |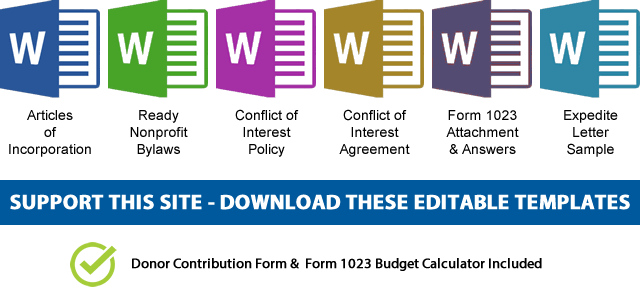 NOTE:
If you'd like to receive the following organizing documents:
Nonprofit Articles of Incorporation,
Nonprofit Bylaws,
Nonprofit Conflict of Interest Policy,
Conflict of Interest Policy Acknowledgment,
Form 1023 Attachment with all the answers,
Form 1023 Expedite Letter template,
and Donor Contribution Form
in Microsoft Word Document format, please consider 
making a donation
 and you'll get to download them immediately. Not only they're worth well over $1000 in value, they will save you weeks of copy pasting and formatting as they are ready to go templates which only need changing names and addresses.
Sorry that this was not useful to you!
Help improve this!
Share your frustration. If you want me to get back to you please include email and phone number.