Nonprofit Organizations 501c3 How To Help Book Free download
Besides the hands-on help on this site on the Form 1023, I have also put a help book together with hope of shedding more light on this subject. This downloadable 501c3 help book comes straight out of the Small to Mid-sized Workshop participant text books offered at Exempt Organization's workshops for small and mid-size section 501c3 exempt organizations.
Download this FREE nonprofit 501c3 Help Book
I have put this book together out of the chapters from the IRS files, in a coherent way. This book should be regarded as a bible for every non-profit organization and should be read by all volunteers, directors and employees. This book is free, you can share it with whomever you like and no payment of any sort is required to download or use it.
I hope that this text helps you become more familiar with tax laws governing exempt organizations and understand how compliance with these laws will strengthen your organization.  The credits for the work go to the hard work of the following individuals and their staff:
Lois G. Lerner 
Director, Exempt Organizations
Internal Revenue Service
Roberta "Bobby" Zarin
Director, Customer Education and
Outreach, Exempt Organization
Internal Revenue Service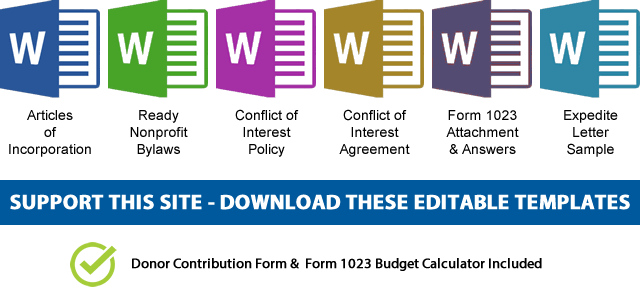 NOTE:
If you'd like to receive the following organizing documents:
Nonprofit Articles of Incorporation,
Nonprofit Bylaws,
Nonprofit Conflict of Interest Policy,
Conflict of Interest Policy Acknowledgment,
Form 1023 Attachment with all the answers,
Form 1023 Expedite Letter template,
and Donor Contribution Form
in Microsoft Word Document format, please consider 
making a donation
 and you'll get to download them immediately. Not only they're worth well over $1000 in value, they will save you weeks of copy pasting and formatting as they are ready to go templates which only need changing names and addresses.
Sorry that this was not useful to you!
Help improve this!
Share your frustration. If you want me to get back to you please include email and phone number.