How to Start & Form a 501c3 Nonprofit Organization DIY
Starting a nonprofit organization made simple. The Ultimate How-To DIY Guide
Read this page carefully top to bottom because this is where you learn how to form a 501c3 nonprofit organization from writing your mission statement to filing your federal application for tax exemption.
Basically, to start & form a 501c3 nonprofit organization there are 6 steps:
 Plan, Write Mission Statement, State Business Name Search, and file the Nonprofit Articles of Incorporation form
Assemble your Nonprofit Board of Directors, and conduct your first board meeting.
Creating the Nonprofit Bylaws. Nonprofit Bylaws are required by the IRS for filing your 501c3 tax exemption application.
Creating the Nonprofit Conflict of Interest Policy. Conflict of Interest Policy is required by the IRS for federal exemption.
Applying for the Employee Identification Number (EIN). EIN is FREE, do not pay for it.
Prepare your Form 1023 Application for 501c3 exemption online on pay.gov. Step by step instructions are provided here.
Exempt organization is a broad term used to encompass many different categories of nonprofit organizations that are exempt from paying federal taxes fully or to some extent. The most recognizable types are the organizations that fall under section 501 of the Internal Revenue Code. However the activities which these organizations are performing dictate the classifications by the IRS.
The major classification of exempt entities are:
Charitable Organizations
Social Welfare Organization
Agricultural or Horticultural Organization
Labor Organization
Business League (Trade Association)
Social Clubs
Fraternal Societies
Employee Benefit Associations or Funds
Veterans' Organizations
Political Organizations
We will concentrate here on charitable organizations, But before starting to form a 501c3 nonprofit organization or filing the IRS Form 1023, or even thinking about the mission statement, you need to ask yourself two simple questions:
Are there any other public charities or 501c3 organizations doing the same thing ?
There are over a million charitable nonprofits in the United States alone promoting and fighting one cause or another so chances are that your cause is already covered by 100 other likewise nonprofits. You need to be honest with yourself; are you really going to do a better job? Do you have the resources? Can you get the funding? Do you have the drive? Can you get help from your peers? Can you find the time? Can you benefit the public?
Nine out of ten cases, you'll find that you should just support existing organizations instead of forming a new one because in reality, the more diverted the efforts get the results for the public suffer respectively.
 How are you going to run a non-profit organization?
Running nonprofits and going on a blind-date is not all that different – It's scary and requires a lot of getting used to. Nonprofits are just like other businesses; the only difference is that you make profit for the benefit of the public rather than making yourself rich. Knowing all that, starting a non-profit corporation is thousand times harder than a for-profit business, because your hands will be tied by the federal law on what you can or can't do by the IRS. Sometimes it's better to pay taxes, and be free in your business programs than holding a nonprofit status and not being able to do what you wanted in the first place. Organizing profitable nonprofits is hard, but not impossible with a little help, getting to know the federal law, and patience.
Another thing that you need to know is that the Internal Revenue Code has many sections. Section 501 is only one section, and the 501c3 refers to a single article under this section. Just because you are a nonprofit corporation, that doesn't mean that you qualify under this section, and at the same time you might qualify for tax exemption under another section but not 501c3.
There are 27 other chapters that will grant your non-profit a tax-exemption status but are not charitable. Before going any further, here's the Complete Revenue Code from the IRS, this is basically the law that governs exemption status of the corporation. Read the law and find out where you stand. If you settle down on section 501c3, the next step is to take the Public Charity Test and see if you actually possess the qualifications to even apply under the section 501c3 for tax exemption status. If you do pass the charity test, then rest of your work is cut out for you.
Assuming that you're still interested and haven't closed this page, let's plan your future, your hard work start from here, buckle up, it's gonna be a long ride:
Click on titles of the Steps below to open and close tabs
.
Step 1. Preparing the Nonprofit Articles of Incorporation for the State
Articles of Incorporation
On step 1, before anything else, you need to incorporate your new nonprofit. This is process is different than the Complete Nonprofit Articles of Incorporation document required by the IRS. What you are doing here is incorporating your entity to be effectively recognized as a legal person and hold a corporation status under laws of your State.
For-profit and nonprofits get some benefits from incorporation such as protection of personal assets of directors and board members in case of bankruptcy, but incorporating a non-profit is not for receiving benefits, it is mandatory by law and the Department of Revenue to receive your exemption status.
You can NOT apply for tax exemption if you are not a legal entity, hence the need for incorporation. And NO, you can't just use your LLC. You need to incorporate as a Domestic Nonprofit Corporation. Before you shell out hundreds of dollars to the Company X to start a nonprofit organization for you, STOP and read the information on How to Incorporate a Nonprofit Organization Yourself.
Assuming that you've already read the How to incorporate a nonprofit DIY, start by going to the office or website of your Secretary of State. They should provide all the information, resources, and forms necessary regarding starting, registering, and forming nonprofits. The process goes like choosing a business name, picking a mission statement, registering the corporation name and mission statement, and filling the incorporation form with your State.
By incorporating your nonprofit using the general form found on your secretary of state Office Website, you are giving the state minimal information such as your mission statement and name to to start and form the entity, but the IRS doesn't care about your State. You need to draft a Complete Articles of Incorporation with specific legal language, and that's what the IRS accepts. Go here to start drafting your Complete Articles of Incorporation.
Once you apply for incorporation, the Secretary of  State will either approve or deny your incorporation request. If you do get approved, you will receive a letter like the one below stating that you're a new legal corporation in your State. You can also see the sample of the State Articles of Incorporation here.
.
Step 2. Assembling your Board of directors
The Board of Directors
Selecting the initial nonprofit board directors or board members is a non-democratic business, but there is no way around it. Each State has a minimum requirement for the nonprofit board size, but as a rule of thumb, a nonprofit corporation board should not be less than 4 and not greater than 15. The IRS is not one bit shy about asking you to increase your nonprofit board size, because smaller boards are more prone to corruption.
At the same time, a very large non-profit board is a nightmare to manage and your board meetings become next to impossible to call. Refrain from electing relatives on your board of directors, keep your family members out of the board business, this is not Mafia. Non-profit organizations should not be dynasty-run businesses; elect qualified non-related individuals for your board of directors who care about your mission. Place an ad in the local newspaper or your web site, and you'll attract local talents who share the same passion, and will contribute to the success of your nonprofit.
.
Step 3. Preparing the Nonprofit Bylaws, Use the sample and template
Nonprofit Bylaws
No matter what category your nonprofit organization falls under, whether a church, animal rescue organization, ministry, sport club, art institution, or a humanitarian nonprofit organization; in the eyes of the federal government and IRS all public charities who qualify for tax exemption are the same. The IRS requires new exempt organizations to possess certain qualifications and to maintain these qualifications.One of these federal qualifications is to have a strong, structured, and meticulously worded nonprofit bylaws.
A non-profit bylaws is essentially the rule book that governs day-to-day activities of the nonprofit corporation, and the bylaws are referred to when problems arise and are used to solve the conflicts and problems between board members and employees as well.
Nonprofit bylaws is one of the most important documents that your nonprofit organization requires, and you should create the perfect by-laws for nonprofits so take your time and familiarize yourself with this document.
Not all bylaws are created equal, most of the nonprofit bylaws templates and samples that you find on the internet are complete hack jobs with information stolen from this website and other sources – pieced together by incompetent "experts" who have no understanding of the nonprofit law to lure you to their sites in search of traffic, selling you their useless services, and eventually showing you advertisements.
Not to say that all nonprofit by-laws you'll find on the internet fall under this category, but be extremely cautious using free documents when it comes to starting a nonprofit organization.
Over the years I have created and refined the most complete, structured, and proven nonprofit bylaws which has been successfully used by thousands of nonprofits, attorneys, CPAs, and individuals to start a nonprofit organization. You can find this nonprofit bylaws template on this page.
.
Step 4. Preparing the Nonprofit Conflict of Interest Policy
Conflict of Interest Policy
Another very important document that the IRS requires from those who are starting a nonprofit organization is the nonprofit Conflict of Interest Policy. Not only is the conflict of interest policy required by law, it is a vital tool to combat corruption in new nonprofits and public charities. In a day and age that nonprofits are increasingly run by mafia style boards, comprised of paid family members and directors, the need for a solid and functional nonprofit conflict of interest policy is magnified.
In my opinion, and it's not only mine, it is the IRS's opinion that a nonprofit conflict of interest policy is the most important organizational document that your non-profit can possess and it is fundamental in maintaining the exempt status of the corporation, its reputation, and standing.
Many people have only a vague idea of what conflict of interest actually is or even how to deal with it. I explain in depth in this page what conflict of interest is, how to avoid it, and I have provided an easy to follow template to help draft your nonprofit conflict of interest policy that you can find here.
.
Step 5. Applying for the Employee Identification Number (EIN)
EIN
In starting your nonprofit organization, step 5 is applying for the Federal Employer Identification Number (EIN). Whether your non-profit is destined to have paid employees or not, you still have to apply for the Employer Identification Number (EIN) from the IRS. The EIN is just like the Social Security Number for organizations and any other type of business, and after receiving this number the IRS will identify your corporation with this number for all tax purposes.
Unlike the previous steps the good news is obtaining the Employer Identification Number (EIN) is a smooth and simple process which is done directly on the IRS's website, and in a matter of minutes you will have your EIN.
The nonprofit EIN should be stated on every document on your Form 1023 application so it is a major requirement for applying for tax exemption. It is imperative to know that the EIN is not for sale, it has no fees attached to it, and it is 100% free, and provided by the IRS directly to nonprofits. Do not pay anyone or any company to acquire the EIN for you. Do it yourself, and on this page I've explained the process and provided the links and resources on how to get your nonprofit EIN.
.
Step 6. Incorporating a Nonprofit Organization DIY, Don't Pay Anyone
Incorporation
The next step to start and form a 501c3 nonprofit organization which I kept for last but brushed on earlier is the physical act of incorporating a non-profit. I have explained in detail on this page and other pages of this website what it entails to incorporate a nonprofit organization. The only thing you should remember from this page before you go to the next is that under no circumstances you should pay any company to incorporate your nonprofit organization on your behalf, and worst still, in a State other than your resident State.
There are hundreds of incorporation services out there which spend thousands of dollars every day in Search Engine advertisement to attract unsuspecting clients searching for nonprofit incorporation. These wolves facilitate the most crucial, yet the SIMPLEST STEP in starting a nonprofit organization, and they are in business to take hundreds of dollars out of your pocket for a legal proceeding that a monkey can do, takes only minutes to perform, and less than $50 to achieve. They are not there to help you, so don't help fill their pockets.
To learn and understand how you can incorporate your nonprofit organization by yourself in a perfect DIY fashion, the right way, please see the information on DIY incorporation page to finally take the first step to form a 501c3 nonprofit organization.
Conclusion
Write a mission Statement, do a business search, select your name, buy your domain name, and incorporate your organization yourself (don't pay anyone). Have a board meeting and elect your board members, adopt the nonprofit bylaws, adopt the conflict of interest policy, apply for the EIN directly on the IRS's website.
Once the preliminary steps of forming a 501c3 are done comes the preparing your form 1023 application yourself using the information on this help site as a guide to walk you through every step of the process of applying for tax exemption under 501c3 section of the Internal Revenue Code.
I know that starting a 501c3 nonprofit organization sounds intimidating and at times overwhelming, but with a little guidance, a little patience, a little help, a lot of good information, and using the correct tools you can successfully start your 501c3 nonprofit as thousands of others have using the resources on this very website for free. If you made it this far down the page, you seem to be on a mission and have a patience of a saint, so pop open a beer as it's going to be a long road ahead.
(Next step) How to Incorporate a Nonprofit Organization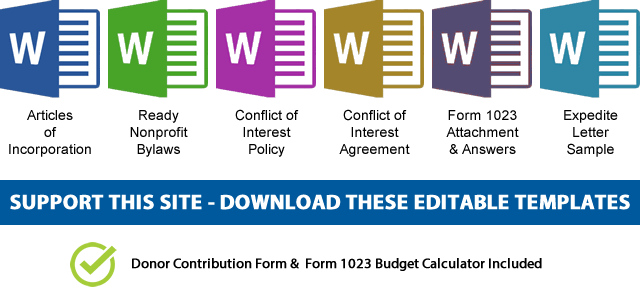 NOTE:
If you'd like to receive the following organizing documents:
Nonprofit Articles of Incorporation,
Nonprofit Bylaws,
Nonprofit Conflict of Interest Policy,
Conflict of Interest Policy Acknowledgment,
Form 1023 Attachment with all the answers,
Form 1023 Expedite Letter template,
and Donor Contribution Form
in Microsoft Word Document format, please consider 
making a donation
 and you'll get to download them immediately. Not only they're worth well over $1000 in value, they will save you weeks of copy pasting and formatting as they are ready to go templates which only need changing names and addresses.
Sorry that this was not useful to you!
Help improve this!
Share your frustration. If you want me to get back to you please include email and phone number.